You want to buy a Copper Perforated Sheets ?
Indo German Guaranteed – Superior Quality – Best Price – Timely delivery!
Manufacturer, Supplier and Exporter in Mumbai, India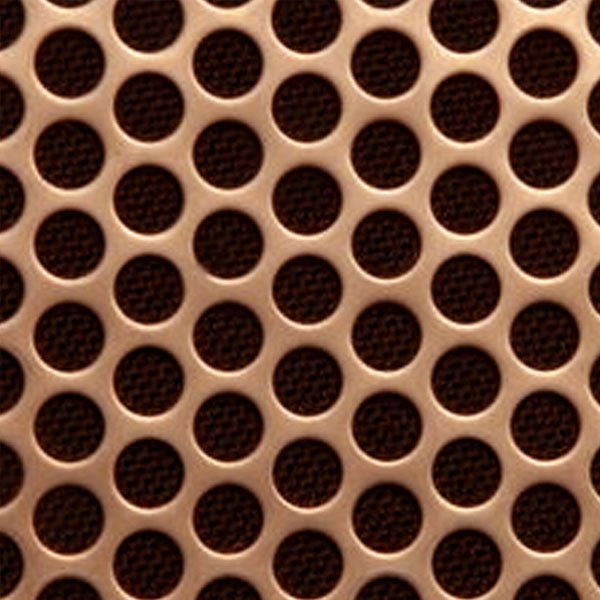 Copper Perforated Sheets Supplier
Copper is ductile, malleable and has high thermal and electrical conductivity. Copper is resistant to atmospheric corrosion but attacked by oxidizing agents such as nitric acid, ferric chloride, cyanides, and ammonia acid compounds. Copper when exposed to the atmosphere it will naturally develop a thin green layer, known as patina. Copper wire mesh's unique colour makes it a very popular option for many different types of users, including designers, artists, architects and homeowners.  Copper wire meshes possess electromagnetic and thermal conduction properties and are highly resistant to atmospheric corrosion. Copper is anti-sparkling in nature, has low tensile strength, is deprived of wear and tears and they darken after some time period. Copper exhibits a white or silver easy to clean surface, where either side is usable and the pattern looks the same. 
Perforated Sheets are thin sheets which are stamped, fabricated, or punched to create a pattern of holes, slots, and various aesthetic shapes to have uniform perforations throughout the entire surface. Depending on applications and requirements, patterns of perforated sheets can be round-staggered, round-straight, slotted holes. Although the process of perforating improves the exterior of metals, it has other useful special uses like protection and noise suppression.
The Perforated Sheets are the most popular perforated sheet pattern used in the current times since they are highly versatile in use, economical in cost, and have a strong aesthetic appeal.  The perforated sunshades and claddings provides privacy for the building residents without any view obstruction while controlling interior climate thus reducing the load of air conditioning and saving energy to a large extent. Perforated Sheets fences and banisters keep enclosed machines and other properties from damage secure and the safety of people.
Indo German Wire Screen Co. has the in-house fabrication capabilities to provide custom perforated hole patterns for unique or specialty applications, if required.
Advantages/ Features of Copper Perforated Sheets
Perfect filterability and protective function.

Sunlight and radiation containment.

Numerous industrial applications.

Heat dissipation, provides ample ventilation of air, light, sound and gases.

Highly versatile in use, economical in cost, and have a strong aesthetic appeal.

Easy and quick to install, can be easily cut and shaped.

Available in round-staggered, round-straight, slotted hole shapes.

Highly durable

perforated sheets

delivered in sheets.
Copper Perforated Sheets are easy to work with and are available in different hole sizes, thickness and other configurations in order to meet your specific application requirements. We offer an exclusive range of Copper Perforated Sheets at unmatched quality and market leading prices.
Order the products your company requires, Contact Indo German Wire Screen Co. at 91 - 9820291268 or submit an Enquiry Form for more information on any of our high quality products and get quotes within hours.
For more information, please Download Brochure
Applications/Usage of Copper Perforated Sheets
Copper Perforated Sheets are widely used for protective fences of overpasses and machine equipment, decorative banister, cladding and ceiling panels, sunshade and sunscreen, balcony panels and balustrade panels, filter to sieve seed, stone and other bulk materials, ventilation sheet, such as air condition grilles, and other wide range of applications.
Specifications of Copper Perforated Sheets
| | |
| --- | --- |
| Company | Indo German Wire Screen Co. |
| Category | Perforated Sheets |
| Product name | Copper Perforated Sheets |
| Material | Copper |
| Hole Type | Round / Square / Slotted Hole |
| Surface Finish Coating | Mill Finish |
| Size | 2000 x 6000 mm |
| Thickness | 10 mm |
| Punching Type | Conventional & CNC Type |
| Applications / Usage | Domestic / Agricultural / Industrial applications |
| Min order Quantity | 1 Roll / 100 Square feet / customised |
| Packaging Details | Rolls / As per client's requirement. |
Copper Perforated Sheets Latest Price
For latest prices please fill the below Enquiry Form to get the final price within hours.
Copper Perforated Sheets products offered by Indo German Wire Screen Co.
About Indo German Wire Screen Co.
Indo German Wire Screen Co. is one of the leading manufacturer, supplier, and exporter and stockist of industrial Wire Mesh, Wire Cloth, Wire Screen, Wire Netting Knitted Wire Mesh, Welded Wire Mesh, Expanded Mesh, Woven Wire Mesh, Fine Wire Mesh, Galvanized Wire Mesh, Epoxy Coated Wire Mesh, Wire Mesh Filter, Demister Pad, Vibrating Screen Wire Mesh, Wire Mesh, Conveyer belt, Sifter Sieves, Perforated Sheets, and many more products in India manufactured. These high-quality products are manufactured at our premises using quality tested raw materials and components according to industry quality standards.

We have become a major supplier of these products into an extensive range of markets and applications across India and the globe. Our clients select our range of products for their economical prices, dimensional preciseness, and high-durability. At Indo German Wire Screen Co., we are the professional people delivering high-quality and superior-performance products that have been appreciated by all of our previous customers and moreover some of the factors that have consistently fuelled our growth in the national as well as international market are:
Why Indo German Wire Screen Co.
More than 25 years of expertise in manufacturing and supplying wire mesh products.
High-quality and superior-performance international quality products.
Competitive pricing, on time delivery and customized solutions.
Copper Perforated Sheets offered by Indo German Wire Screen Co. finds applications in numerous industries like:
| | | | |
| --- | --- | --- | --- |
| Aeronautics Industry | Agriculture Sector | Dryers Industries | Fabrication Industry |
| Food Processing Industry | Building And Construction | Asbestos Industry | Pharmaceuticals Sector |
| Pulp And Paper Industry | Atomic Power Station | Fertilizer Sector | Pulverising Units |
| Automobile Industry | Coal Mines Industries | Granules manufacturing | Cement Industry |
| Glass Industry | Rubber Industries | Dehydration Plant | Steel Industry |
| Ceramic Tile Industry | Imitation Jewellery | Stone Crusher | Chemical Industry |
| Mining Sector | Irrigation Projects | Straw Board Industry | |
Market Area of Indo German Wire Screen Co.
Indo German Wire Screen Co. manufacturing and exporting high quality Copper Perforated Sheets worldwide.
Indo German Wire Screen Co. supplying Copper Perforated Sheets to these Indian Cities.
Mumbai| Pune |Ahmedabad| Bengaluru| Chennai| Delhi| Kolkata| Hyderabad| Agra| Ajmer| Aligarh| Amravati| Amritsar| Asansol| Aurangabad| Bareilly| Belgaum| Bhavnagar| Bhiwandi| Bhopal| Bhubaneswar| Bikaner| Bilaspur| Bokaro Steel City| Chandigarh| Coimbatore| Cuttack| Dehradun| Dhanbad| Bhilai| Durgapur| Erode| Faridabad| Firozabad| Ghaziabad| Gorakhpur| Gulbarga| Guntur| Gwalior| Gurugram| Guwahati| Hamirpur| Hubli–Dharwad| Indore| Jabalpur| Jaipur| Jalandhar| Jalgaon| Jammu| Jamnagar| Jamshedpur| Jhansi| Jodhpur| Kakinada| Kannur| Kanpur| Karnal| Kochi| Kolhapur| Kollam| Kozhikode| Kurnool| Ludhiana| Lucknow| Madurai| Malappuram| Mathura| Mangalore| Meerut| Moradabad| Mysore| Nagpur| Nanded| Nashik| Nellore| Noida| Patna| Puducherry| Purulia| Prayagraj| Raipur| Rajkot| Rajamahendravaram| Ranchi| Rourkela| Ratlam| Salem| Sangli| Shimla| Siliguri| Solapur| Srinagar| Surat| Thanjavur| Thiruvananthapuram| Thrissur| Tiruchirappalli| Tirunelveli| Tiruvannamalai| Ujjain| Vijayapura| Vadodara| Varanasi| Vasai-Virar City| Vijayawada| Visakhapatnam| Vellore| Warangal
Indo German Wire Screen Co. supplying Copper Perforated Sheets to these locations across the world :
African Countries
South Africa , Nigeria, Kenya, Ghana, Ethiopia, Tanzania, Johannesburg, Algeria, Angola, Benin, Botswana, Burkina Faso, Burundi, Cabo Verde, Cameroon, Central African Republic (CAR), Chad, Comoros, Democratic Republic of the Congo, Côte d'Ivoire, Djibouti, Egypt, Equatorial Guinea, Eritrea, Gabon, Gambia, Guinea, Guinea-Bissau, Lesotho, Liberia, Libya, Madagascar, Malawi, Mali, Mauritania, Mauritius, Morocco, Mozambique, Namibia, Nigeria, Rwanda, Sao Tome and Principe, Senegal, Seychelles, Sierra Leone, Somalia, South Sudan, Sudan, Swaziland, Togo, Tunisia, Uganda, Zambia, Zimbabwe.
Gulf and other Countries
Oman, Qatar, Kuwait, Saudi Arabia, Dubai, Bahrain, Iran, United Arab Emirates, Australia, Sydney, Queensland, Melbourne, Perth, Adelaide, New Zealand, Auckland, Wellington, Hamilton.
Asian Countries
Afghanistan, Armenia, Azerbaijan, Bahrain, Bangladesh, Bhutan, Brunei, Cambodia, China, Cyprus, Georgia, India, Indonesia, Iran, Iraq, Israel, Japan, Jordan, Kazakhstan, Kuwait, Kyrgyzstan, Laos, Lebanon, Malaysia, Maldives, Mongolia, Myanmar (Burma), Nepal, North Korea, Oman, Pakistan, Palestine, Philippines, Qatar, Russia, Saudi Arabia, Singapore, South Korea, Sri Lanka, Syria, Taiwan, Tajikistan, Thailand, Timor-Leste, Turkey, Turkmenistan, Uzbekistan, Vietnam, Yemen
South American Countries
Argentina, Ecuador, Suriname, Bolivia, Brazil, Guyana, Uruguay, Chile, Colombia, Paraguay, Peru, Venezuela
Search for Tags : perforated sheet manufacturer, perforated sheet
Note: Please note that the information on this document is for illustration purposes only as information may vary with individual products, their grade and applications, industries or uses and therefore cannot be guaranteed as accurate. © Copyright 2022 © Indo German Wire Screen Co. All Rights Reserved (Terms of Use). Recreation of any materials from the site is strictly prohibited without permission. Indo German Wire Screen Co. products are sold exclusively through Indo German Wire Screen Co. website. Use Terms | Privacy. Please contact us to discuss precise product specifications and requirements and obtain advice on which products are required to suit your exact application needs contact us at [email protected]